About Me
lauramariesanders@gmail.com
My name is Laura Sanders, and I am an aspiring school librarian. Currently enrolled as a second year student at
McGill University's School of Information Studies
in Montreal, Quebec, I feel strongly that library skills and information literacy instruction is best delivered when school librarians collaborate with teachers and to integrate these skills into the school curriculum. Not only does this give students the skills to succeed on an academic level, by becoming comfortable in a library setting they will acquire the tools they will need to be lifelong learners.
It was during my MA in
English and Theatre Studies
at the
University of Guelph
in 2006 that I first heard about library school. A friend of mine was planning to do her MLIS. I was interested in the topics she was studying and the sort of work she hoped to do was exciting to me. I began to talk to other librarians, asking them about their fields and what their lives were like day to day. The more I heard about their jobs, the more enthusiastic I became about a possible career in librarianship.
However, after doing my BA and MA in succession I did not feel ready to start another degree right away. I wanted to gain some work experience and do some travelling. So when the opportunity arose to work as an ESL instructor at a teachers' college in South Korea, I accepted it enthusiastically.
Within three days of arriving in South Korea, the country had gotten under my skin and I knew that I wanted to stay more than a year. I spent the next few months getting to know my students, adapting to teaching, and learning about Korean life and culture. There were many challenges. The Korean school system operates very differently than its Western counterpart. In Western schools, asking questions is encouraged, as it demonstrates the student's investment in their learning. In Korea, asking a question is a disrespectful act because it implies that the teacher, who is supposed to be the authority on the subject, has not adequately explained the topic. So of course, when I encouraged my students to ask questions, they were very reluctant to do so because they feared offending me.
A way to meet this challenge was to form a rapport with the students. Speaking English with a native speaking foreigner was a terrifying prospect for many of them, so I tried to do things that would help them to feel comfortable. I met them for coffee, went to movies with them, held office hours, and encouraged them over and over again to ask me questions.
But after a year of teaching the same lesson twenty-two times a week every week, I thought it was time for something different. I began to apply for jobs at international schools in Korea. These are schools
run in a Western tradition
with the intention of sending their to Western universities. Ultimately, I was hired by
Gyeonggi Suwon International School
in
Suwon
, which came out of an American educational tradition and employed teachers from all over the world. There I began teaching 9th and 10th grade English Literature, Drama, Writing, and public speaking. I was to teach my students in a Western style, which meant I would expect them to ask questions, collaborate with one another and participate in discussions.
That was a challenge at first. Over 95% of GSIS' students were ethnically Korean, and because it was a new school most of them had just come out of the Korean school system. We all had to get used to learning in a new way. One example was Drama. As the high school Drama teacher, I wanted to launch an extra-curricular theatre program that would put on productions. But Drama is not taught in the Korean public school system. So when I first told students that there was going to be a play, their immediate reaction was, "What's a play?"
I made it my goal that year to familiarize the students with theatre. Each of my classes performed small plays at school concerts and assemblies. In the spring of 2009 I directed the secondary school's first full production. However, student reticence remained and I had difficulty rounding out my cast. The following year, I set up a table in the cafeteria and personally asked every student in the lunch line to try out. Our second production was a well-received murder mystery with a cast of twenty two.
The 2010-2011 school year brought a fresh wave of student interest. In November of 2010 I directed the school's first fall production and co-directed
Alice's Adventures in Wonderland
in the spring of 2011. The show had a cast of thirty as well as a full tech team!
---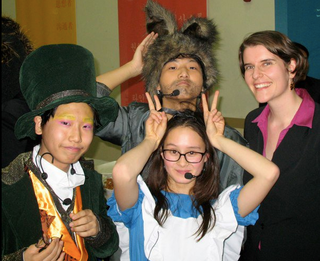 With Alice, the March Hare, and the Mad Hatter from Alice's Adventures in Wonderland, the play I co-directed in Spring 2011 for 6th-12th grade students.

Although I absolutely loved what I was doing, library school was still on my mind. In fact, I saw more than ever how crucial librarians are to schools. We tend to think that because kids have grown up with computers and cell phones, they automatically know how to find everything they need. That is one of the primary arguments for cutting funding to school libraries - why do students need books when they can just Google what they want?
But it is not that simple. For one thing, there are many children and adolescents who either do not have access to the Internet at home, or who lack the literacy skills to use it. For them, a solid library with a professional librarian can make an enormous difference. The librarian can teach them the information literacy skills they need to succeed.
I taught my students how to find materials in the library, how to choose appropriate keywords for their Google searches, how to tell good websites from bad, how to use the library databases, and how to keep their sources organized once they'd found them. All the while I was thinking to myself,
If I was a librarian, I'd be better at this.
That was when I decided that I wanted to be a teacher-librarian.
Now I am well into my second year of library school. Since September of 2011 I have been fortunate to work as a Circulation Assistant at the
Jewish Public Library
as well as the summer Library Assistant at
Atwater Library and Computer Centre
. In both positions, I have interacted with patrons in both English and French, helping them locate the materials they need. In addition, I am Treasurer of McGill's student chapter of the
Association des bibliothécaires du Québec Library Association
, and I write for the blog
Hack Library School
. During the winter semester I will be doing a practicum at
Roslyn School
to further prepare myself for a career as a teacher-librarian.
It is the task of both the teacher and the librarian to connect people to the information they need to build better lives for themselves. My professional goal is to teach people how to find knowledge that will benefit them and encourage them to love learning throughout their lives.